In Israel's tallest skyscraper, the Azrieli Sarona Tower in Tel Aviv, a new Japanese restaurant, A, has opened under the direction of Chef Yuval Ben-Neriah. Two architectural studios – Baranowitz & Goldberg and Pitsou Kedem have joined forces to create a minimalist interior that would provide peace and coolness in the heart of the metropolis.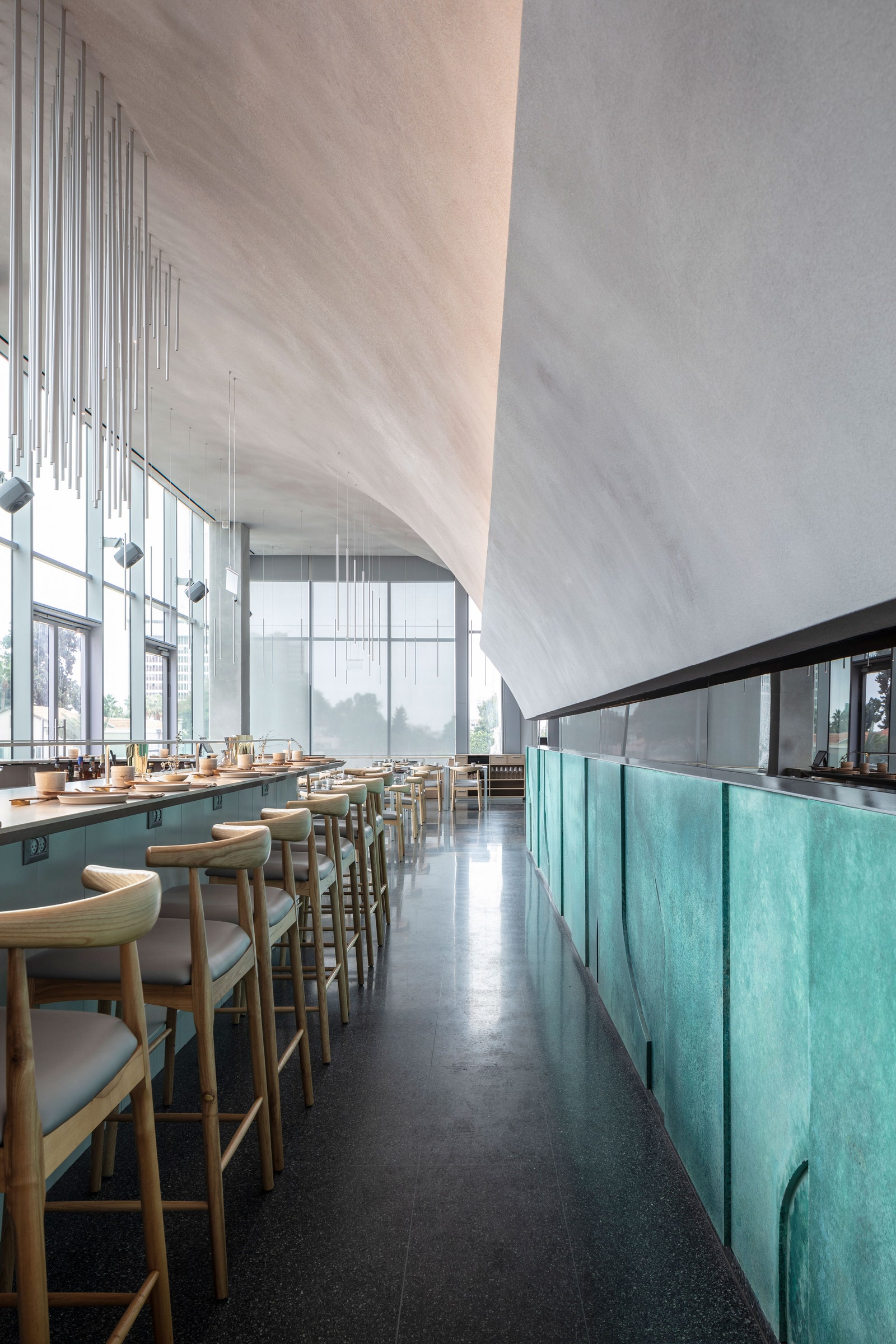 Photo: Amit Geron
The main architectural feature of the L-shaped room in terms of plan was the high semi-vault, which gives the cave monumentality to the main dining room. The authors contrasted its plastic form and watercolor surface with expressive lamps in the form of thin and long rods – they hang from the ceiling, resembling stalactites in shape.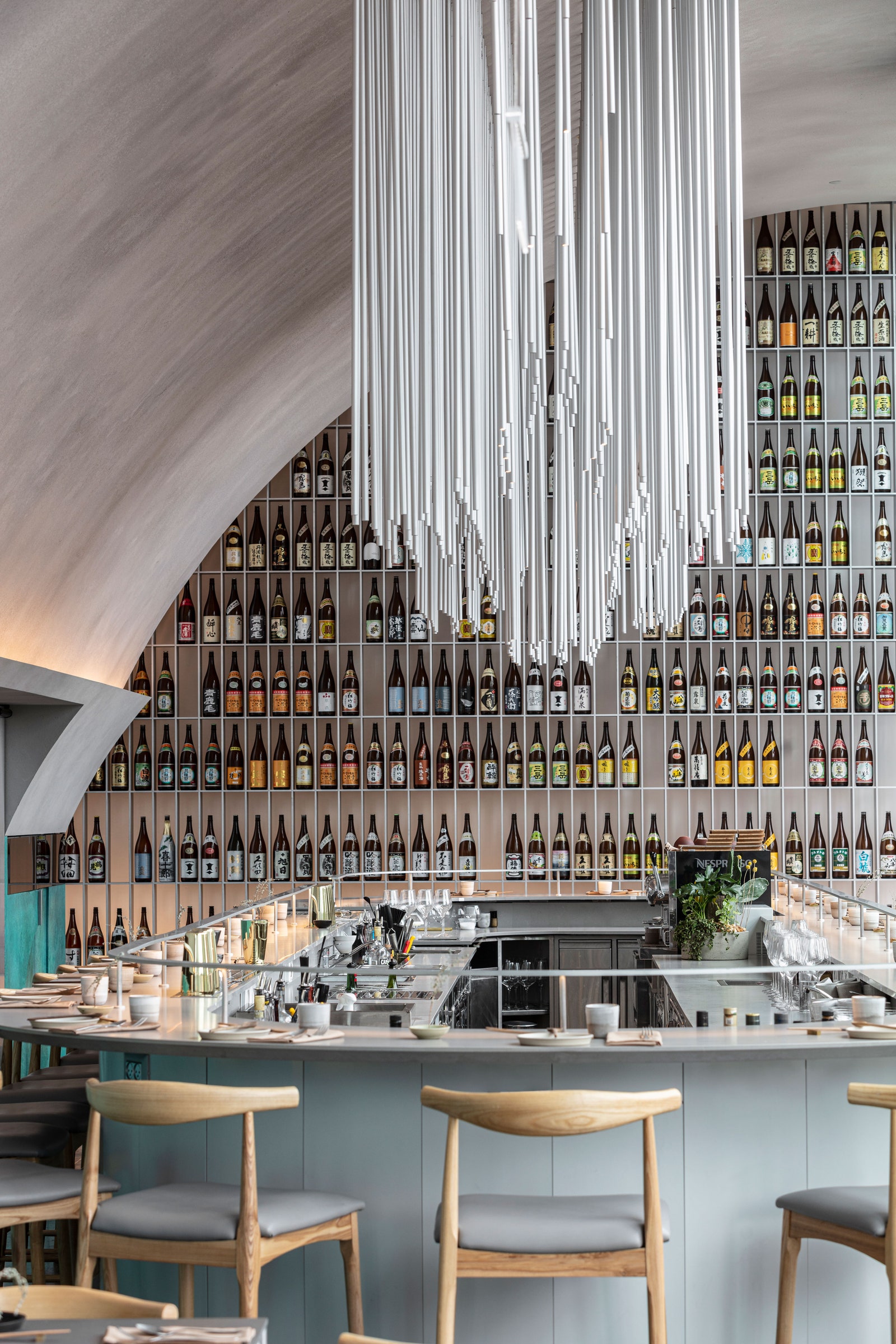 Photo: Amit Geron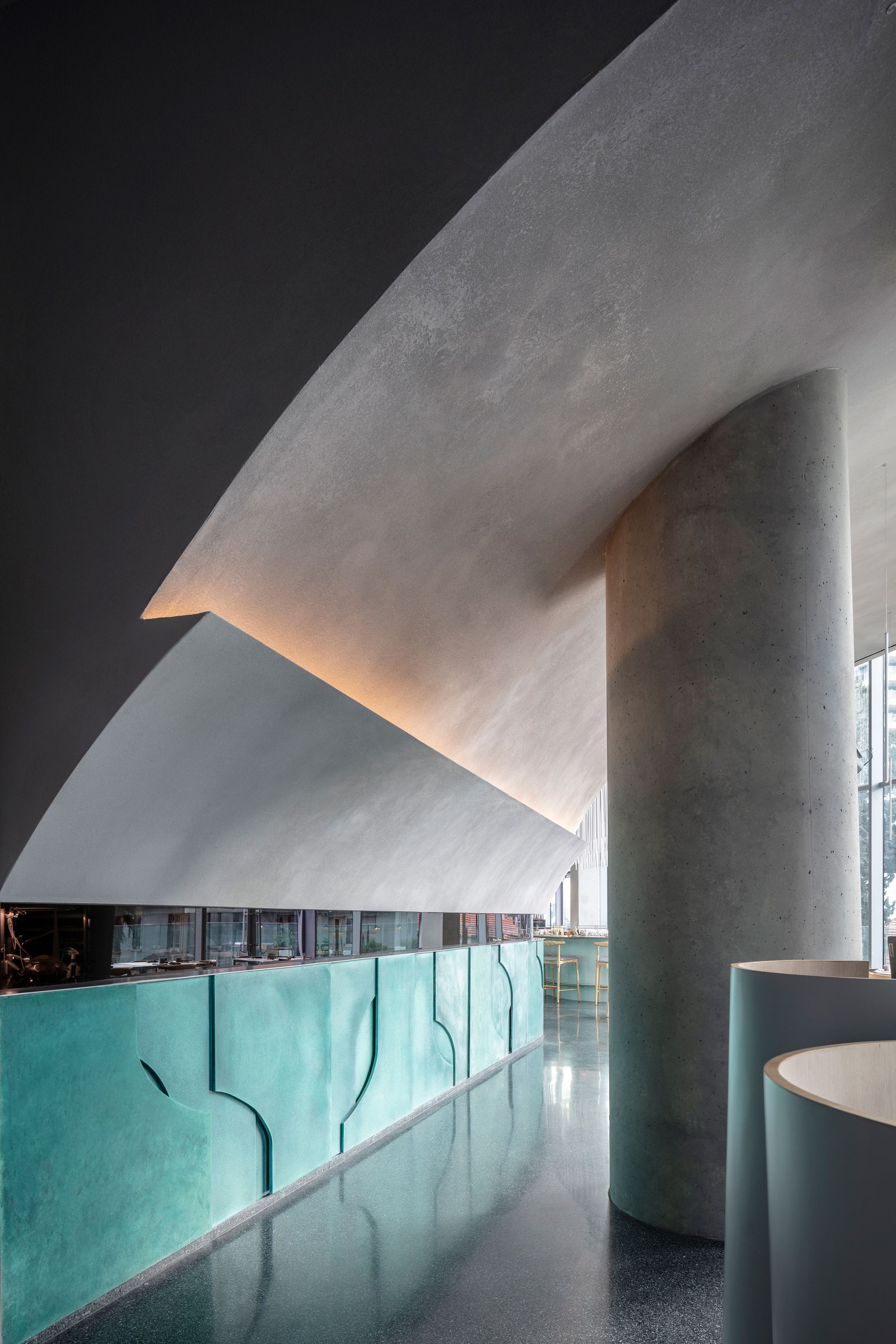 Photo: Amit Geron
The project's cold palette enhances the impression. The architects painted the walls matte gray, and the floor was covered in grainy black terrazzo, polished to a mirror finish. Decorative and color diversity in a laconic interior is made by oxidized copper panels, which stand out with an aquamarine patinated surface and abstract reliefs. They cover the lower part of the wall with a long ribbon and visually connect the two halls of the restaurant.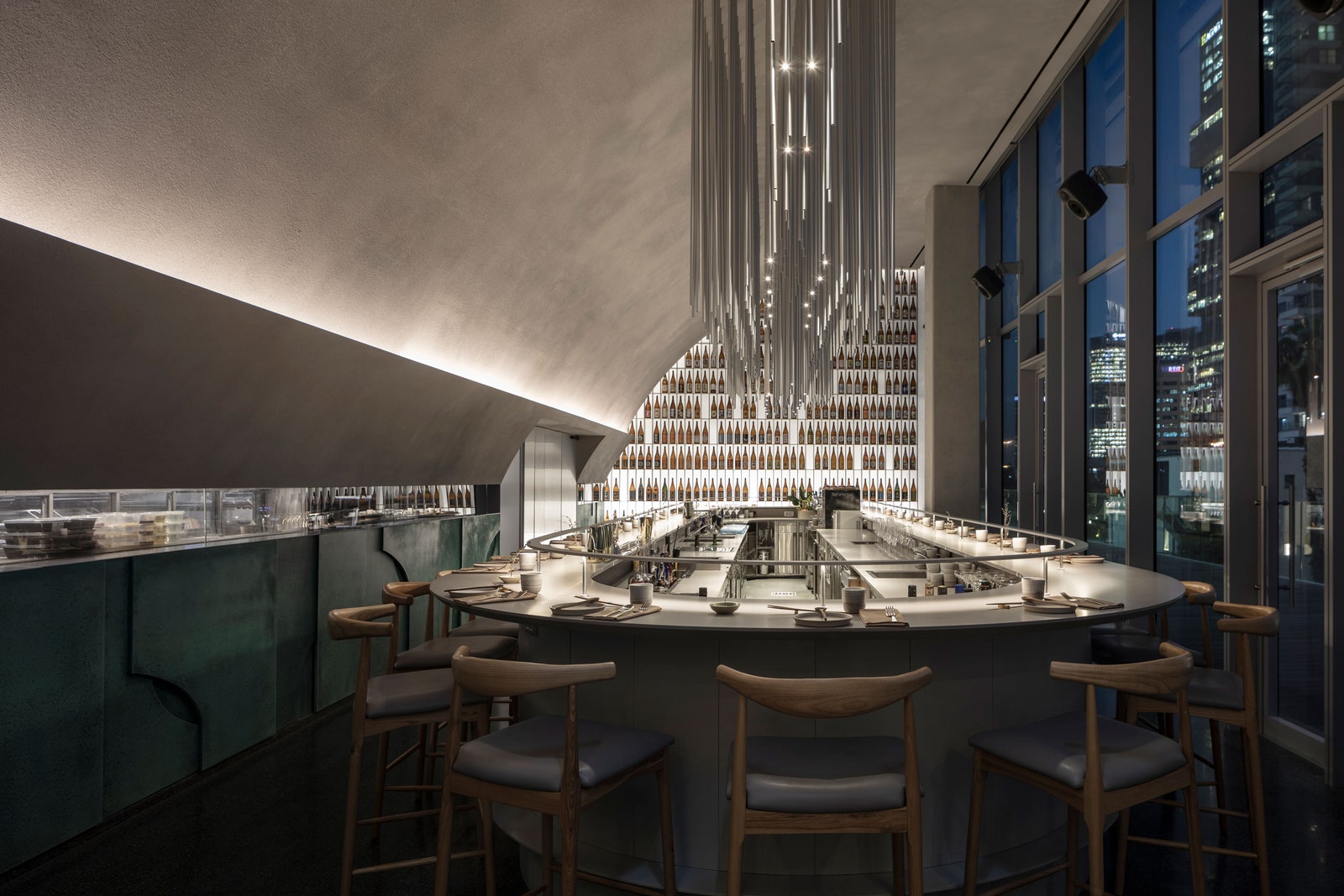 Photo: Amit Geron Photo: Amit Geron
Another decoration of the main hall is the end wall in the form of a semi-arch, which the architects turned into an illuminated honeycomb shelving – the "sake library". Nearby is an O-shaped bar counter, and in the central part there are minimalist aluminum tables surrounded by light wood chairs. This room, bathed in the rays of the sun from panoramic windows, is opposed by an atmospheric chamber hall on the right side of the entrance. The architects zoned it with a rounded concrete wall that looks like an asymmetrically cut piece of paper.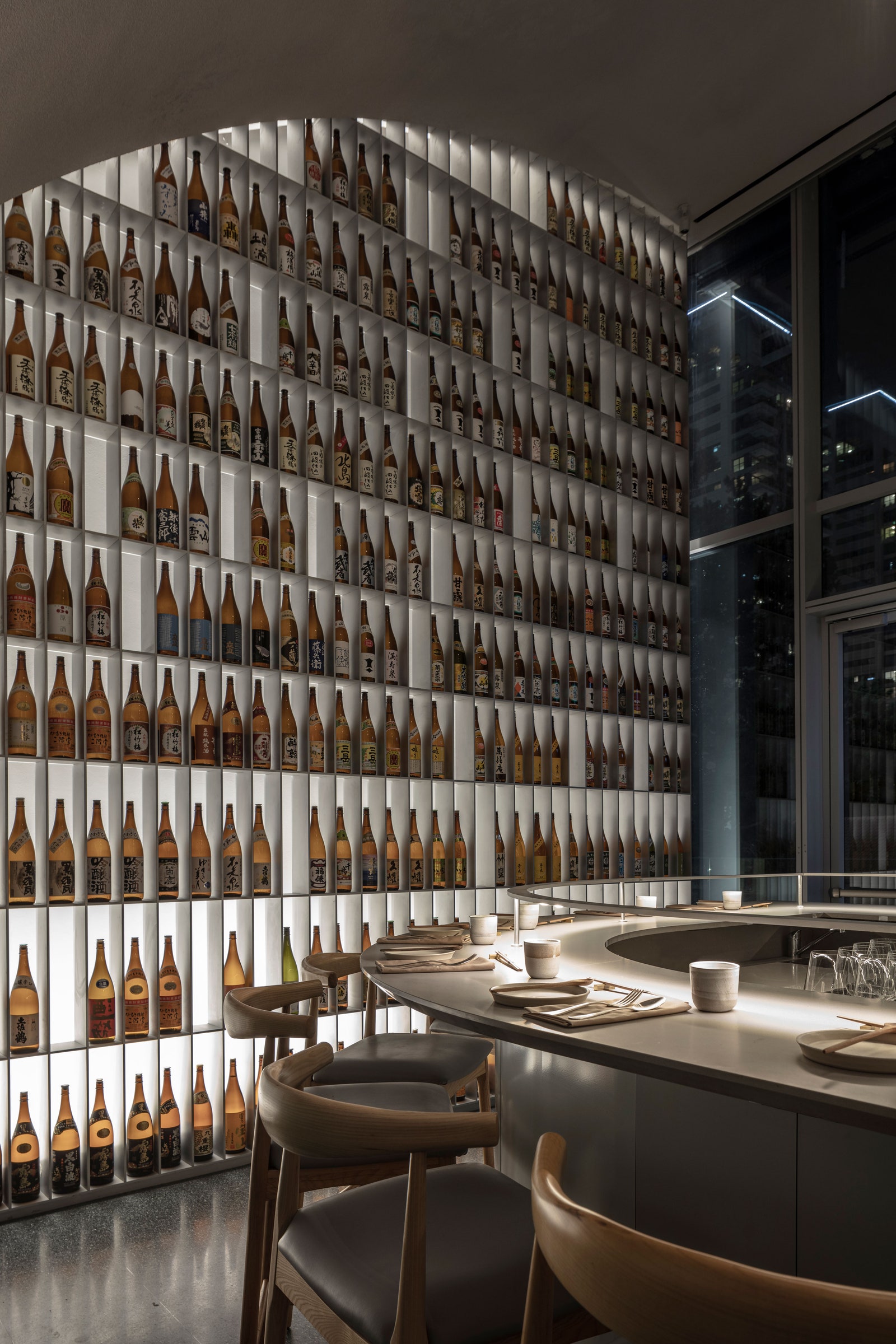 Photo: Amit Geron